The New Way
We Invest
For the traders by the traders.
A "Collaboration Canvas", where investor communications, workflows and tools seamlessly converge.
Our Core Values
Customer Centric
Our customers have supreme power in our organization. We are all about customer delight through active listening, taking actions on customer feedback and providing them the best journey through our platform and team.
Innovation
We are a vibrant team of passionate and innovative professionals. Our core team includes technologists with over two decades of experience and were leaders in fortune 500 companies, leading products from inception to topmost worldwide position.
Market Leadership
Our top notch team is laser focused, agile, super productive, and use modern technologies to stay ahead of market. We believe in "distributing simplicity" and centralizing any complexity.
Design and Architecture Excellence
We follow top most design and architecture principles and hold ourselves to highest standards. Our principle is to "Strive for excellence in whatever we do and look for best way to do it".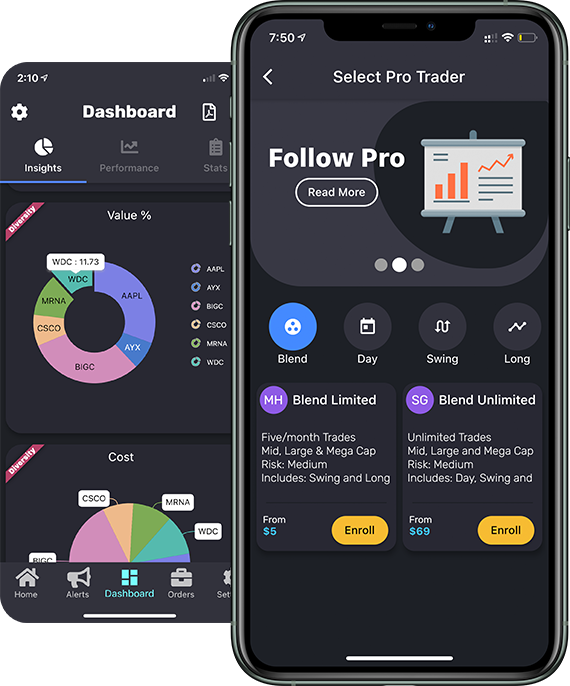 Customer Reviews
Verified App Store review
Recently started using this app. Buying/selling is a breeze. You cannot get better insight about your trade/investment. App has a great user experience in terms of important analytics about your investment and market technical. It has best of technical and fundamental graphs and free of cost training. Great platform even if you are new to trading.
Verified App Store review
Amazing application overall and support from developers. I have several brokerage accounts and this app is by far the best. It allows me to connect to my TD Ameritrade account and I love my account insights and in app trading. Stock trades provided are spot on as well. Love it love it.
Verified App Store review
Best in class trading app. Complete trading app that works across all my accounts. Free pro trades and pro traders sets you up for success.
Verified App Store review
Top Trading platform - I can't believe that such a feature rich platform that is perfect for both beginners and pro traders is provided for free.
I used it for months and then selected one of pro traders to follow which is subscription. I am now getting very simple buy and sell signals with high accuracy of 90% and above and was able to grow my accounts significantly.
Thank you tradegrub for providing a great service, support and platform. Love it.
Our Story
Story
Our story begins at Harvard, where the founder observed that beginner and experienced investors struggle with retail investing. It resonated with his personal experiences.

The founder had his decade-plus experiences with so many large brokerages and platforms where numerous emails and personal feedback over the years didn't lead to any noticeable updates. Additionally, during active trading, he had to use so many tools and platforms for charts, screeners, insights, education, discussion forums, etc. He also had to pay high fees for active trading platforms and various other fees. Having a technology background, he could navigate through this patchwork of so many tools and technology and still ended up paying a significant portion of profits towards these tools and various subscriptions.

It was clear why retail investors struggle to connect all the pieces together and becomes a big barrier. A significant percentage of retail investors are not profitable for that reason.

After years of trading, he came across various pro traders who had trading experience and knowledge with a good track record. However, they had no easy way to spread this knowledge and help other retail investors.

TradeGrub was born to help retail investors be successful in financial markets.